Pride month is finally upon us, which for many members of the LGBTQ+ community means a time to let loose and enjoy all the festivities and parties that their city provides. Seeing as Pride month is in June, when things really start to heat up in the temperature sense (sure, the hot boys help, too) it is important to remember that turning up too much could ruin your time and send you sashaying away while the day is still young.
The Pride festivities are too fun for you to miss a minute of them: the drag queens slaying the game, the go-go boys (clad in Andrew Christian, of course), and the celebration of love in all forms is Gay Christmas, and who wants to miss Christmas?!
Below are 5 easy-to-follow and simple tips to keep yourself safe, happy, and healthy during Pride. If you're looking to party all day and night, we've got you covered.
Stick with a Group
Ever watch a scary movie and when someone says they'll "be right back" and you just roll your eyes because you know they're as dead as Rita Ora's career? Well, same could be said about Pride. Pride festivals are notoriously crowded as hell, so why risk not being able to find your friends later on?
READ MORE: ARE BLOWJOBS THE NEW ANAL? 
When you get to the parade, have your group designate a meeting spot where you can all reconvene if you do happen to get split up, then try and keep this from happening. If someone needs to use the restroom or go to the bar for another drink, make sure they go with another member of your group so that in case you all get split up, no one will be alone. If someone mentions that they're going to meet up with another group of friends, walk them there to ensure they reached their destination safely.
Everyone has that friend who would lose their head if it weren't attached to their own body. You know, the one that loses their phone every weekend like it's their job and keeps Apple in business? Yeah, you should stick with that friend at all times because without you they're hopeless.
Pride is a lot of fun! But it's less fun when you're worried sick wondering if all of your friends are out there safe and sound.
Refuel
You know that old adage: You can't drink all day if you don't start in the morning? Well whoever came up with that phrase is fucked.
While Pride could be taken as an excuse to drink until you forget you were ever not out of the closet, make sure to practice self-care. You may want to try and keep up with your friends, but they won't be the ones experiencing your 3 day hangover dragging on into the work week.
Make sure you're drinking lots and lots of water throughout the day; practice the 1:1 rule, which states that for every drink you consume, you should also consume a glass of water.
Also be sure that you're putting actual food into your body between shots-- it'll keep you dancing until the sun goes down instead of missing out on any fun because you weren't partying responsibly.
Be Aware of Your Surroundings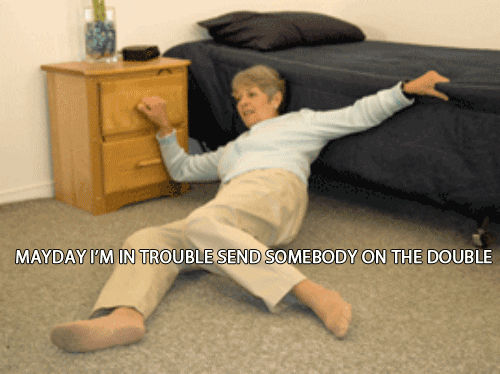 It's 2018 and surprise, surprise, people can be assholes. One of the drawbacks of going to any social gathering with thousands and thousands of people is that some of them are bound to suck and not in the fun way.
READ MORE: THE FASTEST WAY TO RUIN A RELATIONSHIP
While at Pride, there is a chance you'll be imbibing and not being as aware as you would be on, say, a Tuesday morning on your way to work. For this reason it is important to remind yourself to look around and take stock of your surroundings. Always being aware of where you are, who you're around, and what is going on around you will ensure that you're never taken off-guard in the rare chance that someone decides to be a dick about something.
Have an Emergency Plan
It saddens me that we even have to think about this, but in today's cultural climate, it is important to always be somewhat cognizant of the people outside the LGBTQ + community who may wish harm against us. While Pride is all about celebrating ourselves, uninhibited and without fear, it never hurt to have an emergency plan in place in case you need to make a quick exit. Of course, the hope is that you never have to use this, but it is always better to be safe than allow panic to set in if something does go down.
With your group, agree where you would meet away parade or wherever you're celebrating in the event of a disaster. This isn't meant to inspire fear, it is meant to encourage you and your group of friends to always be prepared. Remember, you don't have to get ready if you stay ready!
Protect Yourself
Safe is safe in every sense of the word! While Pride is absolutely a decadent celebration of everything that makes us queer, we should not forget to protect our long-term health in addition to our short-term well-being. In other words, we should be protecting ourselves sexually no matter how hot a dude is, how big his dick may be, or how many shots you've done off his rock-hard abs.
READ MORE: MANSPLAINING MANSCAPING
Know your limits, know what you're comfortable with, and know your status. Protection in any form is important when you're out galavanting with your queer brothers and sisters, and just because the party is promiscuous doesn't mean you have to take a gamble.
Stay safe and have the hottest pride ever, you studs!